Book an Appointment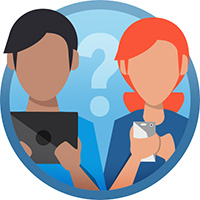 Book an Appointment with Library Staff for assistance using:
The catalogue
HPL Apps
eBooks, eAudiobooks
HPL online resources
In-depth research questions
Appointments are typically for one hour, for customers ages 18 and older. These are one-on-one appointments, in-person or over the phone. They are not intended to be ongoing tutoring appointments.
HPL protects the privacy of customers and supports intellectual property rights. See HPL's Privacy Policy for Library Customers and Copyright and Intellectual Property Policy.
Fill out the form below to Book an Appointment. If you are a teacher interested in booking a tour for your class, please complete a Library Visit Request.