ABOUT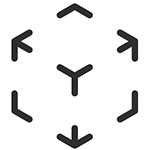 AR allows people to bring digital objects to life. Augmented Reality takes computer-generated images and places them in a real-world environment. Read more about this project and Augmented Reality.
USING THE SITE
You can browse and explore any scans on any device. To explore the Experiences, use an iPad or iPhone. Need to borrow a device? Contact HPL.

IN PARTNERSHIP
Working together, Hamilton Public Library, Hamilton Civic Museums and Hamilton Parks & Recreation created a series of local landmarks and intriguing artifacts to play with and experiment as you learn about AR. Tour the site, check out the Experiences and models and register for a training session or two and share your work. You'll be glad you did.