The Hamilton Public Library Board
The Hamilton Public Library Board is made up of nine citizens and two City Councillors. The Library Board establishes library services for our community based on public input, market research and by monitoring satisfaction with services.
Members of the Hamilton Public Library Board 2023:
Lori-Anne Spence-Smith (Chair)
John Kirkpatrick (Vice-Chair)
Elly Bowen
Robert Coruzzi
Stu Laurie
Lynne Serviss
Gagan Batra
C.A. Klassen
Nick van Velzen
Councillor Nrinder Nann
Councillor Ted McMeekin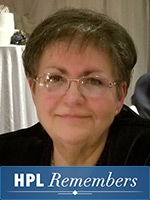 In Memoriam
Dr. Vittorina (Vikki) Cecchetto served as an HPL Library Board member, volunteering as part of the 2019-2022 Board. Vikki passed away on September 3, 2020, at the age of 69. She will be sadly missed.
"Vikki was a dedicated member of the Library Board who made a significant contribution to HPL. She was also a wonderful and caring person who will be greatly missed. Our condolences to all her family and friends. We are all better for having known Vikki." ~ Paul Takala, CEO and Chief Librarian
---
The Hamilton Public Library Board is duly constituted as a corporation and governed by the provisions of the Public Libraries Act, Statutes of Ontario, 1990, Chapter P. 44 and is established by the provisions of City of Hamilton By-Law 04-019.  
How can I contact the Board?:
Contact with the Board may be made through the Chief Librarian's office. The Chief Librarian serves as Secretary of the Board and is responsible for Library operations. Members of the public wishing to make a verbal or written delegation to the Library Board should contact the Board Secretary in writing seven (7) days in advance of the meeting. Board meeting agendas are developed by the Chair and Vice-Chair working with the Secretary.
Senior Leadership Support Manager 
55 York Boulevard, Box 2700
Hamilton, ON  L8N 4E4
905.546.3214
hplceo@hpl.ca
Meetings:
Board meetings are typically held at 6pm on the third Wednesday of each month (except in October, November and December this year).
2023 Meeting dates: 
January 18
February 15
March 22
April 19
May 17
June 21
July/August- no meetings
September 20
October 18
November 15
December 13
How can I apply to become a Library Board member?:
Library Board members are appointed by Hamilton City Council for a four-year term and serve without remuneration. A notice to citizens will be placed in The Hamilton Spectator and Hamilton community newspapers announcing the recruitment period. Application forms are available at all Municipal Service Centres, Hamilton City Hall and on the City's website during the recruitment period. The next term for recruitment will be early 2023. Current Hamilton Public Library Board members will remain on the Board until new members start their term.
2019-2022 Board Orientation Materials
2019-2022 Board Orientation Presentation
HPL Strategic Planning Framework
HPL Facilities Master Plan 2019